One of the most popular and visited attractions in Mid-coast Maine is the Marshall Point Lighthouse. It's the epitome of a quintessential and classic-looking lighthouse. Oh, and it appeared in the movie Forrest Gump (how cool is that!).
It's no wonder it's one of the most photographed in Maine. Visitors receive the full lighthouse experience—strong winds and gorgeous, rugged coastline. There is also a historical gift shop museum managed by the local community that's worth browsing.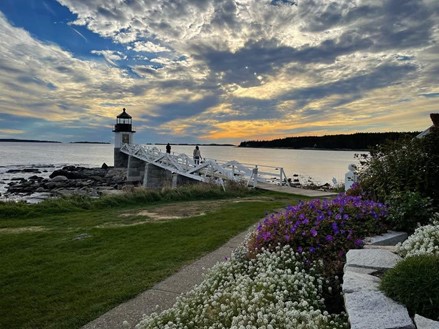 Marshall Point is a gorgeous spot to watch the sunset after spending the day in Port Clyde. It's easily accessible, and you can get there in 10-15 minutes from most places in Saint George, including the East Wind.
Your photos will make all your friends and family members want to join you on your next trip (and come up with catchy hashtags of #runtouristrun and #lifeislikeaboxoflighthouses).