'There's no way that's a mile away.' My famous last words. Walking out to the Rockport lighthouse is truly an optical illusion. When you begin the hike, you think it will take 10 minutes at most. But it turns out that the sign and Google are correct—it's 1.1. miles each way.
The hike out is one-of-a-kind. The entire pathway out to the lighthouse is constructed of rocks and walled by the ocean as you walk toward your destination that looks both near and far away.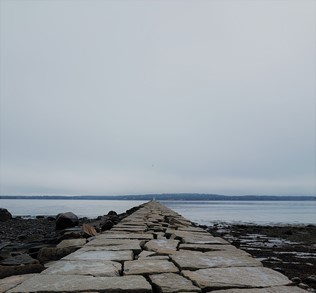 The journey to the classic red brick lighthouse is fun and worthwhile. And it's a great way to experience Rockland and treat yourself to some shops and seafood dining downtown to reward yourself.
We suggest only walking out to the lighthouse if you are fairly active, in good cardiovascular shape, and have good balance. It is not appropriate for children or those with physical limitations. Make sure to pay attention to where you're stepping if you make the trek!