The last name 'Wyeth' is a right of passage in Maine. And rightly so. The family of artists have created paintings that flawlessly capture the beauty of the mid-coast landscape and lives of its residents. Their interpretation of farm life, fishermen, and nature make it easy to get lost in their paintings and feel the emotion of their work.
The Farnsworth museum in Rockland is one of the best ways to view artwork from N.C., Andrew and Jaime Wyeth. We suggest giving yourself at least 2 hours to go through the Wyeth collection and other Maine artist exhibits.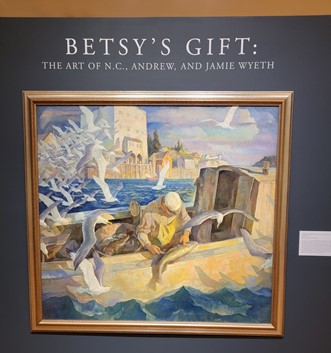 It is rare to have the opportunity to see such professional and high-quality paintings of places that are within a 5–20-minute drive. We are thankful that the Wyeths and so many artists call Mid-coast Maine home and highlight the surrounding areas in their work. 
The museum is simple to navigate, has an affordable gift shop, and is right in the center of downtown Rockland, surrounded by coffee shops (we love Rock City Cafe), incredible restaurants, and tourist shops. 
If you appreciate art, you must visit the Farnsworth and open studios in downtown Rockland and around Saint George... make sure to leave yourself an entire day.