One of the best parts of Maine is the lobstering culture, and seeing the picturesque docks with buoys, lobster traps and hard-working lobstermen.
Mainers and tourists greatly benefit from their hard work with amazing boat to table seafood, and out-of-this-world lobster rolls. Everyone has their opinion on where to go for 'the best Lobsta roll,' and whether it should be Maine-style (points for those who like mayo) or Connecticut-style with butter.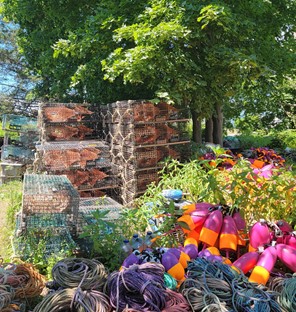 Being next to a lobster co-op, we decided that we had to make a Maine-worthy lobster roll. We keep it traditional and make sure to add heaps of lobster and plenty of mayo. Our chef also adds the perfect amount of salt, lemon chives and celery.
After some VERY enjoyable research in Mid-coast Maine, we highly recommend McLoons, Archers on the Pier, and our very own Quarry Tavern pub and Harborview Bistro restaurant, all within a 20-minute drive from Tenants Harbor.
Guests love watching the lobstermen come in each day, and can sometimes see our chef walk over to the 'East Wind' lobster crate on their dock. We pick and prep the lobster in house and take pride in offering our guests the freshest seafood around. Probably the toughest decision you can make in our restaurant is deciding between the Lobster Ravioli and the Lobster Roll.
We invite you to participate in one of Maine's most enjoyable pastimes… searching for the best lobster roll until you find your own 'go-to' spot.
Visit #savemainelobstermen to learn more about the industry and to ensure its survival.